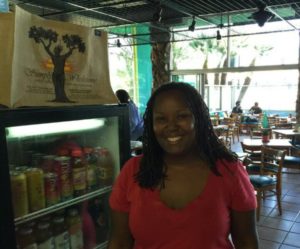 In commemoration of National Small Business Week, my heart and tummy had the good fortune to dine at Simply Wholesome. Simply Wholesome is a staple of the Windsor Hills community and is a go-to meeting spot for community movers and shakers, families and the health-conscious. I enjoyed my fave turkey burger along with the satisfaction of stimulating the local economy. Sky's Gourmet Tacos and community culinary institution, Roscoe's Inglewood location were also destinations on my small business week itinerary! (And no, I don't spend all of my free time eating!)
Supporting local businesses is essential to maintaining economic well-being and community cohesion. Many lessons can be learned from small businesses as well. Simply Wholesome has capitalized upon addressing the gap in the market for restaurants that serve real, clean and organic foods in South Los Angeles and Inglewood. Identifying and then filling holes in the marketplace is one way for small businesses to ensure profitability and growth. Having quality products — well-seasoned turkey burger anyone? — is also important. How are you ensuring that your business addresses what customers want and need, but don't readily have access to locally? In what ways do your services or products prioritize quality? The answers to these questions can spell success or failure for your small business endeavor.
Do you have a favorite small business in your community? Show your support and let me know!