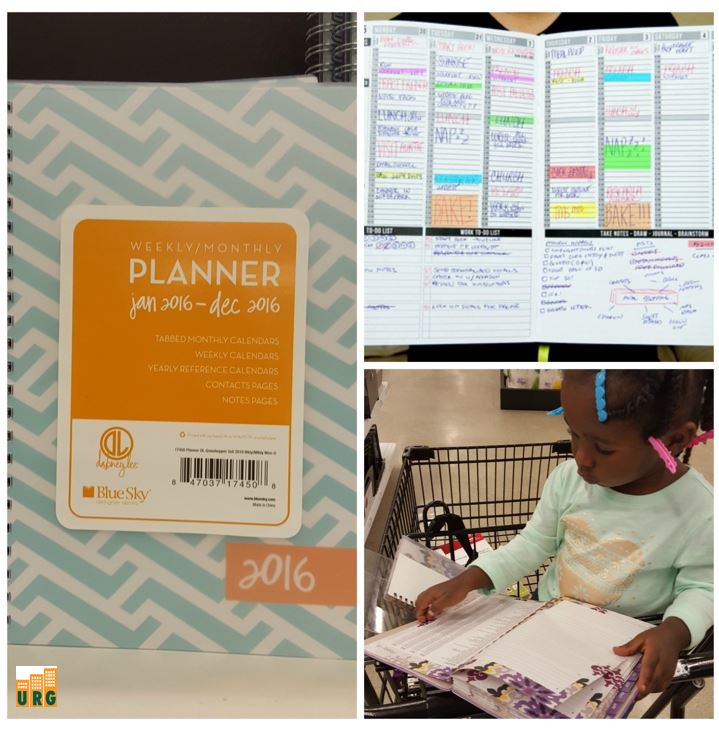 It should be no secret that I love to plan. I earned a master's degree in planning. I think in terms of logic models and grids. I even planned my daughter's birth around the narrow window between two semesters (Ok, I can't take all the credit for that one — God and my husband had a say!).
As such, it's no surprise that one of my favorite annual activities is planner shopping! Weekly/monthly — check! Adequate space to write notes and tasks — check! Visual appeal for the days when I'm slammed and I need inspiration to face the day — ring me up, please!
This year, the selection process was aided by my junior consultant, Lindiwe, my two-year old daughter. I was so tickled at how she was captivated by one particular planner. She held it for 10 minutes, thumbing through the pages as if she were scrutinizing the features. (In this activity, she reminded me that the apple really doesn't fall far from the tree!)
Though I loved the purple floral print that caught my daughter's eye, I decided to go with the Passion Planner (pictured above, top-right). I ordered it in October (as a good planner would do), and was perusing Office Depot for a second option. Since I espouse marrying values to all of your actions and decisions — personally and professionally — purchasing a planner from a woman- and minority-owned small business, whose story resonates with me is right up my alley. Not to mention, the planner has some incredible features including goal-setting pages and a journaling section to reflect and express gratitude.
More important than the actual planner is, you guessed it: The Plan! A plan based on values, strategy and a focus on outcomes is key to any successful business or high-impact organization. What is your plan for 2016? Have you taken the time to reflect on 2015 in order to build on your successes and overcome your challenges next year? 2016 is here! Don't get caught without a plan and arrive at 2017 wondering why you didn't reach your goals. Better yet, like my sweet girl with me at Office Depot, enlist help. Join our mailing list and receive complimentary goal-setting quick tips and worksheet!
Happy Planning!