Urban Rising Group Supports Participatory Budgeting in City of Long Beach District 9
What happens when civic engagement and a forward-thinking elected official combine? Participatory budgeting!
Participatory budgeting (PB) is an emerging governance paradigm that places the 'electorate' in the driver's seat of allocating municipal funds. The initiative began in Sao Paulo, Brazil, and has been replicated globally over 1500 times!
Long Beach is the first location  in Southern California to utilize this approach which was catalyzed by Long Beach City Councilmember Rex Richardson. On his decision to embrace participatory budgeting, Councilmember Richardson said that people only "learn government by doing government" and the actual allocation funds is secondary to the importance of "engag[ing] neighbors to build consensus around making change." District 9 residents have the opportunity to allocate $250,000 for a capital improvement project.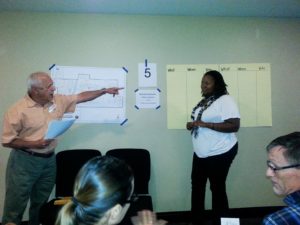 Urban Rising Group was proud to support these efforts last fall. I served as an assembly facilitator where community members brainstormed possible ideas such as renovating parks, installing lights and security cameras to address crime problems and establishing a matching fund for future projects.
PB is remarkable because it represents a reorientation of the city's values and focus to the expressed needs of community members. As our citizenry becomes more diverse, business and nonprofit leaders alike must identify new and effective ways to ensure all voices are heard and resources address the needs and priorities of the people in which we serve. How does your organization listen to your constituents? In what ways do you meaningfully incorporate their feedback into your business or program model? The answer to these questions are essential to achieve your mission and engage your stakeholders.
Thank you to my USC Price School colleague, Jessica Medina, PBP Organizer, for providing the opportunity to participate. For more information about participatory budgeting, please visit www.participatorybudgeting, www.pblongbeach.org. Visit www.longbeach.gov/district9/ to check out other initiatives of Long Beach Council District 9 under Councilmember Richardson's leadership.